WE DESIGN KILLER SOFTWARE APPLICATIONS FOR ALL DEVICES
Our service offerings are purposely designed to help us produce the best possible end-product for our clients. As a result, we do highly recommend utilizing each of the design services listed below. However, if you just need help in certain areas, we can also provide each service as a stand-alone offering.
Often times, clients will come to us with great ideas that need to be fleshed out, solidified and validated. As the name implies, "Team Work Sessions" are all about rolling up our sleeves and working together to transform and shape ideas into tangible, meaningful and usable products.
Time and time again, when we are brought into a project to design a user experience, we learn that no one has spent any time with the users. What's even more surprising is not only what we learn each time we shadow users but what our clients learn. In some cases, user shadowing reveals immense flaws in business processes, inefficiencies in redundant tasks, violations of compliance policies and much more. The bottom line is that there simply is no better to learn how to design for your users than to spend some time with them.
Getting a user from Point A to Point B may not always be a straight line, but it should still be the path of least resistance. Deciding where content, features and functions reside within an interface is a critical to good design. To achieve this, we begin with some basic Information Design exercises, such as card sorting, site architecture maps and task flow diagrams.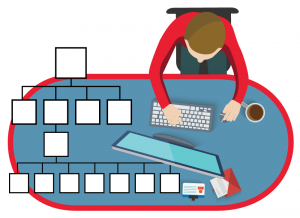 Sure, you can build a house without blueprints – but you shouldn't. You can also develop a software product without designing a prototype first – but you shouldn't. The premise is simple: it is easier, less expensive and smarter to make changes to the design of a house or the design of a software product before it is built. Our prototypes may be "non-functional" in that there is no code making calls to a database, but they feel very much like a live product.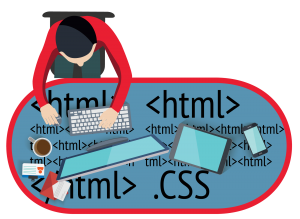 Do you really need to develop 3 separate native apps and a web app or do you just need one application to display properly on all devices? This is the first question most businesses should ask themselves before investing in any development project. With Responsive Web Design and Hybrid App Design, we can design and develop a single front-end for your software application that automatically adjusts itself to a layout that is optimized for the user's device and display size.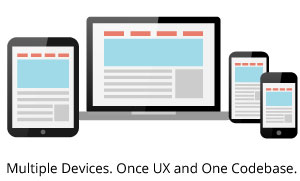 See the 'Big Picture' on how all our design services work together and revolve around our collaborative Team Work Sessions.
We offer 4 engagement models to get your software product built. As our name implies, we assign a dedicated 'Team' to all our engagements.