USER SHADOWING AND INTERVIEWING
IN THE TRENCHES WITH YOUR USERS
Perhaps the most important (and often overlooked) step in designing a great user experience is User Shadowing. Yet, most design teams simply do not spend time sitting with users, in person, in their natural work environments, learning how to design a great experience for them.
Time and time again, when we are brought into a project to design a user experience, we learn that no one has spent any time with the users. What's even more surprising is not only what we learn each time we shadow users but what our clients learn. In some cases, user shadowing reveals immense flaws in business processes, inefficiencies in redundant tasks, violations of compliance policies and much more. The bottom line is that there simply is no better way to learn how to design for your users than to spend some time with them.
What exactly is User Shadowing?
Well, it's really very much what it sounds like. We spend time with your users, shadowing them within their work environment to observe and learn:
What their roles and responsibilities are
What steps they perform to complete their tasks
What systems and people they interact with
What pain-points they struggle with
What deliverables do we provide?
Based on the specifics of the project and the users, we will provide any number of deliverables at the conclusion of our User Shadowing efforts, including but not limited to:
A detailed "Findings and Recommendations" presentation.
Ecosystem illustration that depicts all the systems and people your users interact with on a regular basis.
Swimlane diagrams that depict the steps and interaction points of a given flow.
User Personas that describe who your users are based on their needs and profile.
We've shadowed users for all types of companies, including but not limited to:
Trading floors at large financial institutions
Medical research laboratories
Private and family trust companies
Drug rehab and residential reentry centers
Private foundation management firms
There simply is no better to learn how to design for your users than to spend some time with them.
Let us design a killer software application for you.
See the 'Big Picture' on how all our design services work together and revolve around our collaborative Team Work Sessions.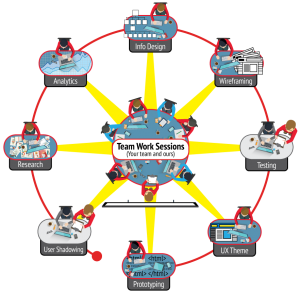 We offer 4 engagement models to get your software product built. As our name implies, we assign a dedicated 'Team' to all our engagements.